In Memory
Steve Plummer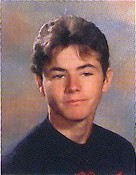 "The Mightly Hunter"
Written by a family member in memory of Steve for his funeral.

As you all know,
Steve liked to hunt with a gun or a bow
Full of Anticipation, every season
To bag the "big one" being the only reason
Whether camping out or just up
For the day, with a little luck, "I'll bag that big
Buck," he would say
With a white stiroform cup in hand
He would shimmy on up to his tree stand
On many occasions he would take his son, to show
Him the way hunting was done
He had many horns mounted to always show
That he only bog the bucks and never a doe
With the eye of an eagle, and the draw
Of his bow.
The course was set for the arrow to go.
As though deer in the spring run so free,
That's the way Stevie will always be.

December 12, 1970 – January 29, 2003

Steve is survived by his son - Steve Plumber.